Ta da! Over two years in the making, it's here.
The Cooperative Games Bullying Prevention Program
Cooperative Games for a Warm School Climate
PreK-Grade 2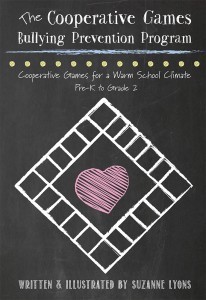 Cooperative games are great fun! But there is a serious side to them to—used in the right way, they can prevent aggression. This is a huge discovery for kids, families, schools, and society at large. This finding on cooperative games and aggression in kids is explained and put to practical use in our bullying prevention program.
The Cooperative Bullying Prevention Program consists of the teaching manual, which provides directions for over 50 active cooperative games, teaching tips, a discussion of relevant research, and many suggestions for making your classroom a haven for caring, cooperative play. Also included in the program are four board games your young students will love to play over and over again.
Of course it makes sense that cooperative play builds healthy relationships and nurtures a positive school climate…but is there any research on this? Yes, there is proof that the exact games used in the Cooperative Games Bullying Prevention Program actually reduce aggression and build pro-social skills. This program was tested in a University of Nevada study and shown to work. Here is what the author of the University of Nevada Study says about our program:
The Cooperative Games Bullying Prevention Program is a great piece of work and significant contribution to bullying prevention. Through the use of practical, easy to implement, and class-friendly games, Suzanne Lyons promotes a new mindset regarding the substantial impact of cooperatively structured play activities. This work reaches into and beyond bullying prevention with techniques that transform classrooms into social milieus reinforcing values of sharing, kindness and peace. The methods and activities in this book encourage positive social skills development and they help children build confidence in their own ability to relate to and work with one another. I wholeheartedly support and appreciate Ms. Lyons' work. It bridges empirical research on cooperative games and aggression reduction with the school system. As such, it is rightly an integral part of bullying prevention.
We will be posting lots more about using cooperative games to prevent bullying. Stay tuned!