CONTACT: KidStuff Public Relations
Lisa Orman • 608-767-1102
[email protected]

Discover How Social Skills Go Up, Aggression Goes Down as Kids
Play "Nice" And Feel Good with Cooperative Board Games
Nevada City, CA (September 19, 2018) — Most children have lots of opportunity to play competitive games where someone wins and naturally, someone loses. Whether it's a soccer match, video game or racing to be first, competitive games are quite the norm. CooperativeGames.com, a California-based company, offers another option—cooperative play. Kids get together for fun collaboration, sharing and kindness to "win" as a group while playing these games. Their newest offering is The Baby Beluga Game ($34.95). If it sounds familiar, then you must be a fan of Raffi's signature song of the same name.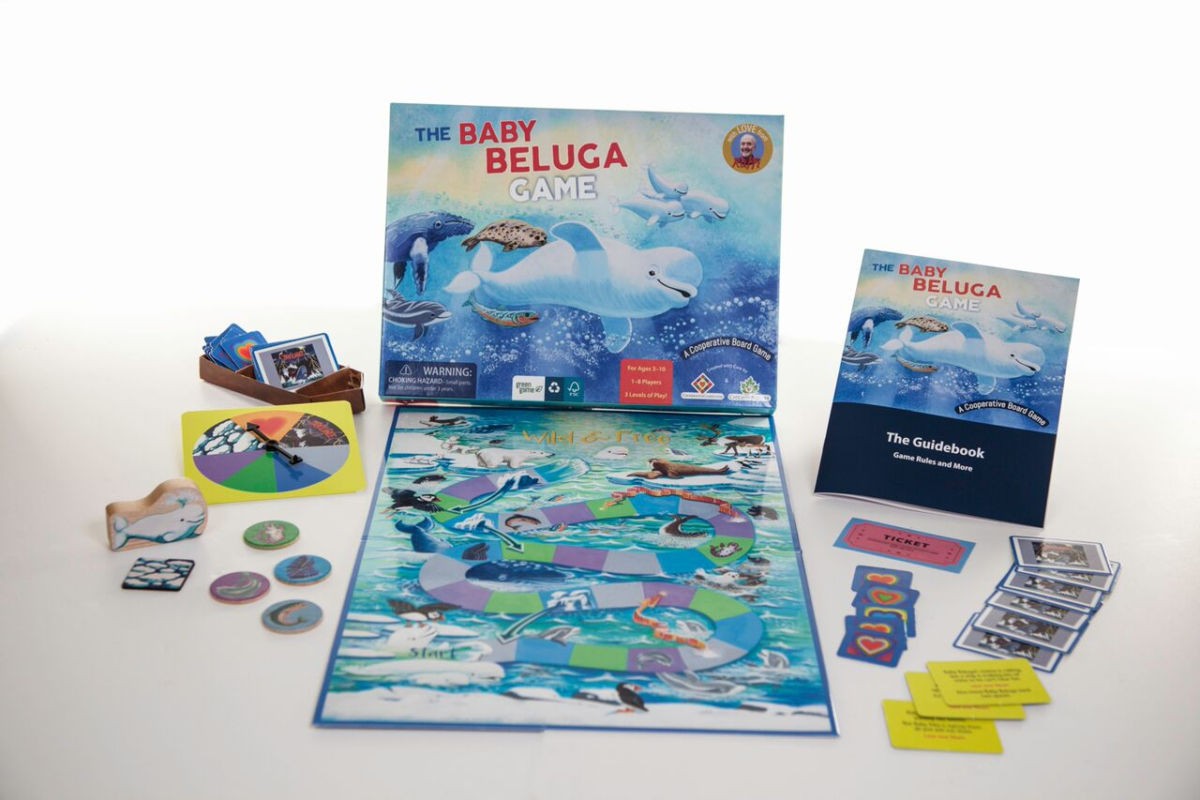 The catchy sing-along tune was introduced in 1980. Now four decades later, the lovable whale is back, but in a board game. The Baby Beluga Game was created, cooperatively, by Raffi and fair-trade, indie game developer Suzanne Lyons of CooperativeGames.com. It features paintings by Ashley Wolff, who illustrated Raffi's Baby Beluga book, and comes with a free download of the Baby Beluga song and a 32-page illustrated booklet.
Why a whale and why now? "I designed The Baby Beluga Game," explains Lyons, "to support the loving, pro-social nature of children. I'm concerned that competitive games send the message that winning only happens when we out-do others. Cooperative games show we can play together so we all win at the same time. Whales, like Baby Beluga, are intelligent animals that have happy social lives based on cooperation. There's no better role model for cooperative play than Baby Beluga in my opinion."
Marine biologists agree! Not just cooperative but compassionate best describes the real-life belugas says Canadian scientists who do whale research. They have been following a narwhal – a medium-sized whale that possesses a large "tusk" – swimming with a school of young belugas. The fact that they are two different species doesn't seem to interfere with their three-year-old friendship!
"I think it shows … the compassion and the openness of other species," concludes Harvard researcher Martin Nweeia to CBC Television, "to welcome another member that may not look or act the same. And maybe that's a good lesson for everyone."
See the belugas and narwhal at play in Canada's St. Lawrence River on this YouTube video:
https://www.youtube.com/watch?time_continue=73&v=LdusjFmgn-w
The Baby Beluga Game
The board game's goal is simple — players win by helping Baby Beluga and Friends swim wild and free. As they ponder the next move, children from ages 3 to 10 do a little STEM learning, finding out about whales and ocean science in a fun way. Plenty of thought went into every aspect of the game and its contents. There's even a little canoe to hold game pieces and keep them organized between play times!
"A new, engaging cooperative board game that parents and teachers should know about and introduce to children," shouted out toy industry guru Dr. Toy (aka Stevanne Auerbach). "Like the best cooperative games, I believe The Baby Beluga Game can positively influence teamwork, respect, compassion, and help build confidence. It also encourages children's love of nature, which makes this game extra special."
Just in time for back-to-school and holiday gift giving or for Family Game Night, the game is available in the United States and in Canada. U.S. shoppers can purchase the game at www.CooperativeGames.com. Canadian parents can buy it on amazon.ca.
The reviews from parents who have ordered the game online have been five stars:
Two of my grandchildren aged 2 and 5 love playing this game when they visit. Their father grew up with Raffi and now they are too. What fun!!!
The Baby Beluga game has been loved by my 6 and 4 year old. The 4 year old loves all the pieces and brilliant art work. My 6 year old loves to get "trouble" and work her way through the trouble cards. My girls love the idea of working together to get Baby Beluga into the wild and free space while finding friends along the way. This game has been great entertainment for just the girls or as a family game night experience. We love it and highly recommend this cooperative game!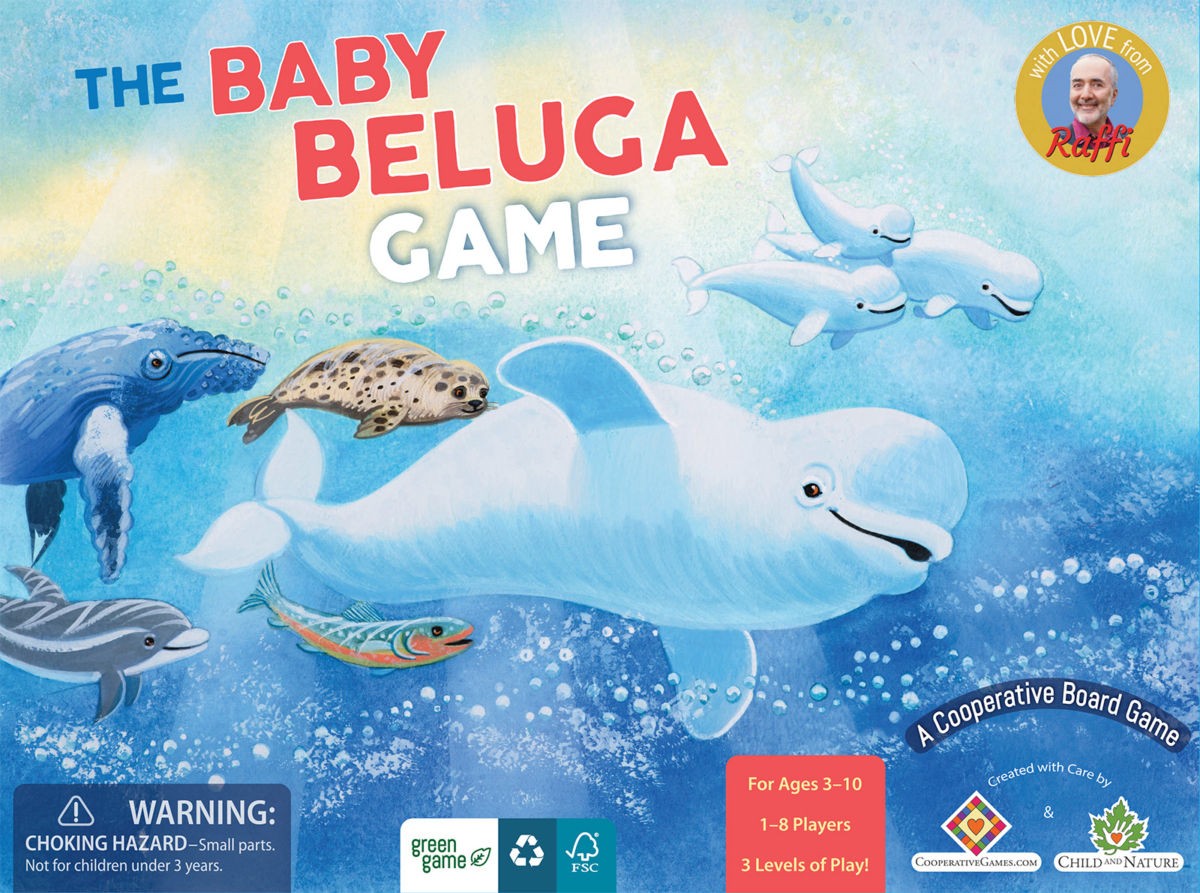 The Baby Beluga Game • Ages 3+ • $34.95
Can players help Baby Beluga and his Friends complete the journey to swim wild and free? There could be trouble along the way. But players can win if they work together. This fun cooperative board game teaches children all about Baby Beluga and his Arctic friends as well as the ocean environment and the joys of playing together. The game is lovingly made with fair-trade practices and Earth-friendly materials in California.
What does Raffi think, 38 years after he first introduced the now-famous little whale? "I feel like a proud papa," he admitted. "A lot of care went into developing this game."
ABOUT COOPERATIVE GAMES AND THE INVENTOR
CooperativeGames.com is a small independent business, a part of Child and Nature LLC, supplying the public with cooperative board games, as well as books and resources for cooperative play. CooperativeGames.com is owned and operated by Suzanne Lyons, designer of The Baby Beluga Game.
Lyons is a science educator by training who combines science teaching with social-emotional learning, art, and fun. She writes books and makes games including Conceptual Integrated Science, a science textbook now in its third edition, published by Pearson.
In 2009 Lyons started her own publishing company, Child and Nature. It has a special division for cooperative play: CooperativeGames.com so Lyons can teach teachers and the public about the power of cooperative play. In 2015, she wrote the research-based book, The Cooperative Games Bullying Prevention Program, which Raffi endorsed and wanted to help promote.
Suzanne's educational background includes degrees in physics (UC Berkeley), Earth Science (Sacramento State University), and Education (Stanford University), plus she holds a California teaching credential. She lives in Northern California and has two college-age children.
Discover the benefits of cooperative play at CooperativeGames.com.