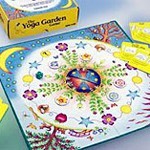 One of my top-selling cooperative games for kids is the delightful Yoga Garden Game, a cooperative board game for ages 4 and up. Parents and teachers: this game teaches yoga and cooperation, is beautiful to look at, and fun to play. Why not get in the game yourself and share the gentle joy of cooperative yoga with your kids?
Yoga Garden Game, A Great Cooperative Board Game for Kids
Players work together to move the bumblebee through the garden and plant all the flowers before night comes and it's time for bed. The rules are quite easy to follow, and with a little practice kids can actually play it on their own: players roll a die to move the bee around the board. Depending on where the bee lands, players may plant flowers, perform a yoga pose as illustrated on the yoga cards, invent their own yoga pose….or they may land on a space that puts stars in the sky and brings on night fall.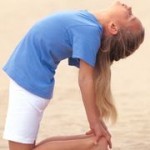 Why I Recommend this Cooperative Board Game for Kids
I love several things about this gentle cooperative board game for kids-and for you parents and teachers (who will surely enjoy looking on if not actually playing the game):
* The art on the game board is so beautiful … it shows a garden, the sky, and has such a peaceful feeling that it makes me feel connected to nature just looking at it!
* It teaches yoga in a very accessible and fun way for kids as young as 4 years old. Yoga is great for kids, as studies now show. I appreciate that the rules remind children "Don't forget to breathe" as they practice their poses. The yoga game cards have
pictures of the poses as well as simple step-by-step directions anyone could follow. The game is produced by YogaKids, a mission driven company all about teaching yoga to kids.
They are sincere in their mission …and you can tell! http://www.yogakids.com/
* As a cooperative board game, kids have to work together to accomplish a common goal. No one loses and has their feelings hurt. This game works in just the opposite way compared to a competitive board game: Here, everyone wins because everyone has a good time trying to move the bumblebee around the board and plant flowers, learning yoga all the while. If the game goal is not achieved, and nighttime comes before the flowers are planted, no matter. The group can play again another day and see if they can meet the challenge. As all cooperative games show, winning is more fun when it is shared, and losing is much less disappointing when we are all in the same boat. In a cooperative game, we can practice winning or losing, having fun and learning together!
CooperativeGames.com Deal of the Day
This is one of my best selling cooperative board games at CooperativeGames.com.  My customers are all smiles about it. To share the joy, I'm offering a 10% discount on the game right now. Go to our Deal of the Day Page at CooperativeGames.com. To see more and purchase the Yoga Garden Game, click  http://shop.cooperativegames.com/dealoftheday.asp
To shop our entire selection of cooperative board games, games for young and old alike,  go to http://shop.cooperativegames.com/
Thanks and Enjoy!