Cooperative games can be used to teach all school subjects. There's a good chance you have heard about cooperative games used in PE classes.  For example, Waldorf movement classes center on active cooperative games. And Play Works, the popular provider of recess-based play programs to urban public schools,  use cooperative PE games too. As Waldorf and Play Works show, athletic cooperative games combine play with sports and social-emotional learning to make PE fun, inclusive, and successful for everyone.
But did you know that cooperative games are not just for the playground, they can be used inside the classroom too? Cooperative games have many social-emotional learning (SEL) benefits and they make great sense from a pedagogical standpoint. Think of it this way: cooperative games combine the pedagogical advantages of cooperative learning with the merits of play-based learning.
Cooperative Learning + Play-Based Learning = Cooperative Games
This is a powerful combo! Teachers already rely on cooperative learning and play-based learning because we all know how essential these approaches are. With all of their advantages, why not combine cooperative learning with play-based learning for an even more powerfully positive teaching tool?
So teachers, child-care providers, and home-schooling parents: When you're planning lessons, consider adding cooperative games to your SEL curricula as well as your subject area teaching—for language arts, math, science or just about any other subject.
Here is a cooperative game for the classroom that can be adapted to different subject areas and age levels. The version below is for Kindergarten-level math. It will get you started: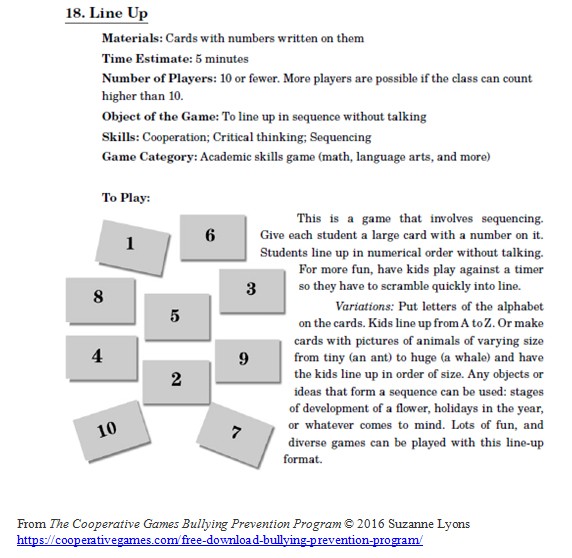 Where can you get more cooperative games suited to classroom learning? Check my website CooperativeGames.com which has loads of resources for teachers including instructions for free cooperative games that can be used to teach various subject areas. I also offer a variety of cooperative board games, books, and services for educators for purchase. For example:
* The Baby Beluga Game This is a cooperative board game for kids ages 3-10, made in the USA from sustainable materials. I designed and published it through my small company Child and Nature. The Baby Beluga Game teaches STEM along with SEL and was created in collaboration with Raffi. https://shop.cooperativegames.com/BabyBelugaGame_p/101.htm
* The Cooperative Games Classroom Kit  The kit consists of my book, The Cooperative Games Bullying Prevention Program, plus The Baby Beluga Game and four fabulous research-tested Family Pastimes games including Max and Harvest Time. The Classroom Kit is a great starter kit for using cooperative games in Pre-K to Grade 2+ classroom. It provides classroom tips, directions to active games, research as well as cooperative board games kids will love. https://cooperativegames.com/classroom-kit/
* Professional Development When you are ready to dive deeper and become an expert in using cooperative play in your school, schedule a webinar or workshop with me for professional development As a former classroom teacher, I specialize in practical tips and teaching strategies, sound resources, sharing the latest research—plus sharing joyful inspiration and encouragement. Workshops are fun, important, and very well-received. https://cooperativegames.com/professional-development-for-teachers/
Let's Play Together! Good Luck and Have Fun-